Connecting to Salesforce Database¶
Salesforce is one of the most commonly-used Customer Relationship Management (CRM) solutions. It allows businesses to use cloud technology to better connect with partners and potential customers. Astera Centerprise offers Salesforce database connectivity at both source and destination points. The connectivity also extends to other objects such as Database Lookup, SQL Statement Lookup in Transformations, SQL Script Task in a Workflow, Database Diff Processor and Slowly Changing Dimensions in Database Write Strategies.
In this article, we will go over how to configure Salesforce as a database in Astera Centerprise. We will be using the Database Table Source object to establish the connection with the Salesforce database.
Using Salesforce in Database Table Source¶
1. To configure the properties of Database Table source, right click on the header and select Properties.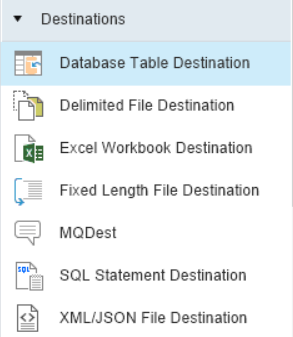 2. A dialogue box will appear where you can configure the properties for Database Table source object.
3. On the Database connection window, select Salesforce from the drop-down list of Data Providers.
4. Provide the credentials to your Salesforce account.
There are following checkboxes available for further Salesforce settings:
Retrieve deleted items - includes items that were previously deleted.
Connect to sandbox - creates a new connection to Sandbox completely isolated from your actual Salesforce account.
5. Test Connection to make sure that your connection has been established with Salesforce. When the connection is established, click Next.
The connection to Salesforce database has been successfully established. You can now pick a table from Salesforce database and use the data in your dataflow.
To learn more about how to pick a table from a database source and specify other reading options, click here.
This concludes connecting to Salesforce database in Astera Centerprise.